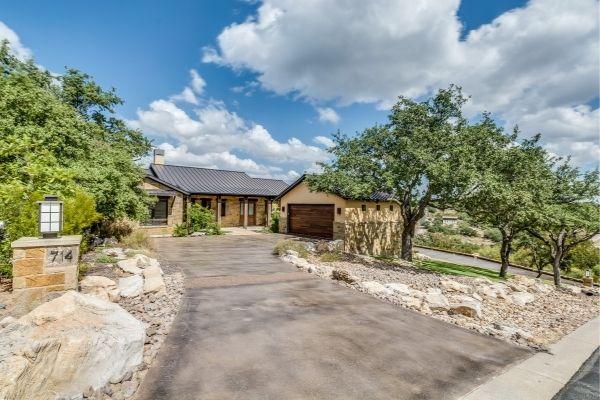 Driveway Lighting Ideas for Modern Homes
Are you looking for new and innovative ways to make your driveway more safe and secure? With so many different options on the market today, it can be challenging to decide which type of driveway lighting is best for you.
Should you go with a traditional LED strip? Or should you try something a little more high-tech with a motion sensor? Let's explore your options!
Lighting Your Driveway Should be Easy!
You first want to consider if you wish your lighting system to be automatic or manual.
Manual: If you're not looking for a high-tech and expensive automated system because you don't plan on using it that much, then we recommend going with a manual LED strip light.
These lights will give off an intense amount of light, and all you have to do is switch them on whenever you need them. They also have a long lifespan so that you won't be replacing these lights often.
Automatic: If you're looking for an automated lighting system and don't mind spending more money, we recommend going with a motion sensor-activated LED strip light. These lights will turn on automatically when someone (or something) passes by your driveway.
They also come with a high-tech controller that will let you set the timer and dim brightness to whatever you prefer. Plus, they're easy to install!
10 Lighting Ideas for Your Driveway
Keeping your driveway illuminated is one way of ensuring that your property is safe from intruders. But let's not disregard the fact that it makes your walkway and even your garden more pleasant and welcoming.
Here are the top 10 lighting ideas you can try to enjoy a warm driveway all the time!
1. Motion-activated LED strip lights
Place them on your garage, garden path, and especially around the entrances to your driveway. These lights have a built-in motion sensor that automatically turns the light on as soon as someone walks by. Motion-activated LED strip lights are great because they're energy-efficient and can last for years without you needing to replace or fix them!
2. Landscape lighting
You can go for lights that are placed on the ground or wall-mounted. This option will help you highlight specific areas of your garden while also creating a comfortable atmosphere for guests.
3. Solar powered bollard lights
They're low profile and great for illuminating pathways but can also be used to dress up your driveway. They're perfect if you want something that's easy to install (and won't cost too much) without sacrificing style.
4. Landscape lighting
There are several ways you can highlight your driveway path or garden with ambient lighting. You can opt for post lights, wall lanterns, or even deck lighting to achieve a sophisticated look similar to what you see in hotels.
5. Lighted rocks in your garden
As the sun sets, these rocks will light up and create a stunning contrast against your green. They're beautiful and come in different shapes and sizes, so you can easily find one that fits your space perfectly.
6. String lights along your pathway
String lights or fairy lights are perhaps the most common type of lumens lighting for homes because they bring an extra bit of magic into your life. Try draping them from the trees, layering them behind benches or chairs, or simply hanging them as a border to highlight specific areas around your driveway.
7. Gate post lanterns
Not only do they cast a warm glow, but these lanterns are perfect for lighting up your walkway. You can place them on both sides of the path or just one to give you just enough light while walking in the dark.
8. Solar-powered post cap lights
These stylish little lights come with an integrated solar panel that gathers sunlight during the day, so you don't have to worry about charging them! It's also water-resistant, making it a perfect choice for your driveway.
9. Exterior motion sensor lights
If you're looking for a more high-tech lighting option, then this one is perfect for you. Place these outside your house near entrances and garage doors to instantly illuminate the exterior when someone approaches.
10. Garden stake lights (perfect for pathways)
And if you're feeling creative, why not make your garden lighting? All you need is some tea lights, glass cups or jars, and floral wire. It's easy to put together, and the best thing is that they won't cost too much!