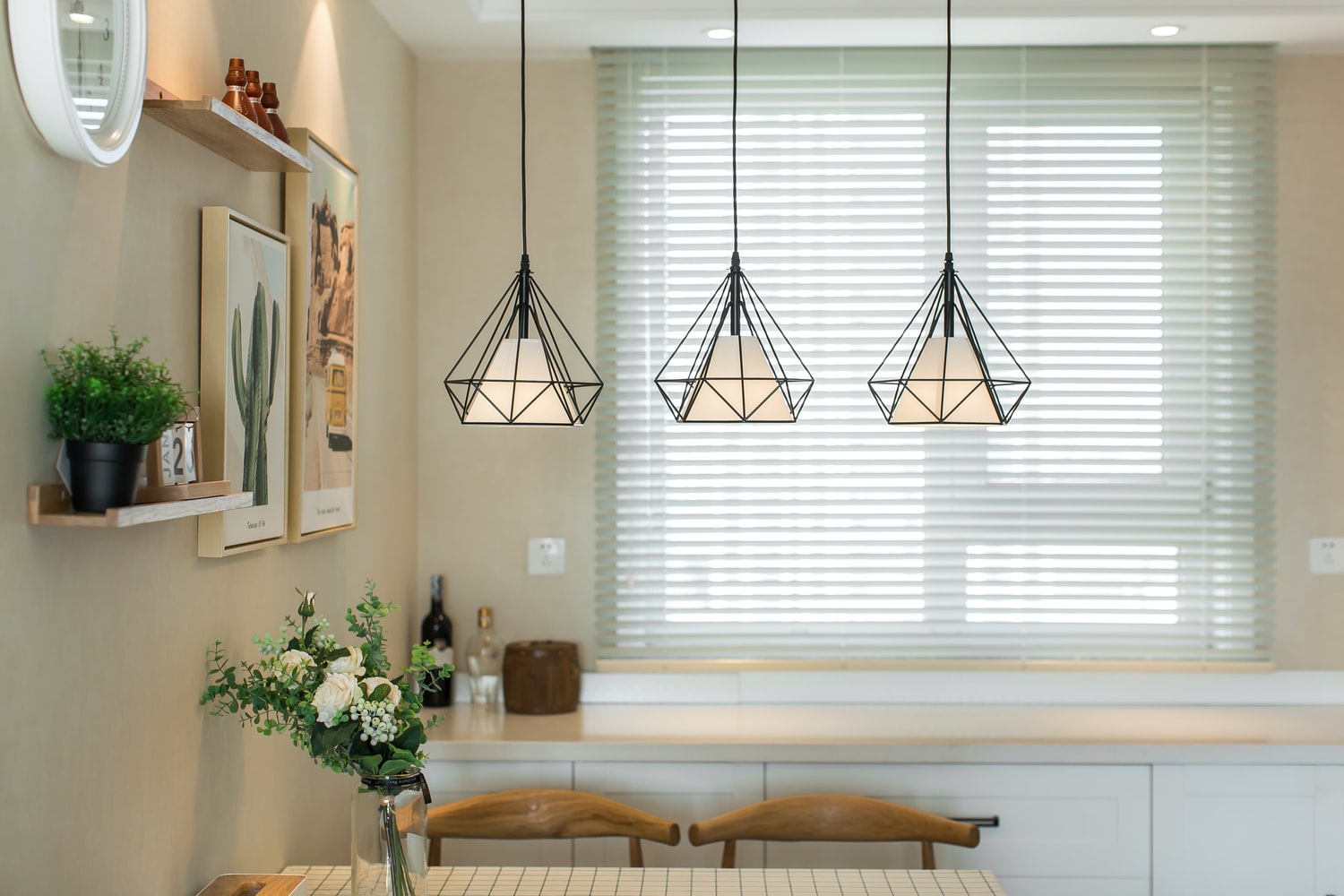 Types Of Light Fixtures
The type of lighting of interior design depends upon the theme of your interior design. The type of light fixtures you can use also vary depending on the location of the room. The light fixtures are also chosen according to the kind of atmosphere. So, it's better to plan things before going for lighting the interior design.
There are many light fixtures with different types of patterns and colors. A modern style of the light fixture is often in rectangular and geometric shapes. Such light fixtures have two or three small lights placed at equal intervals around the rectangular body. Sometimes, the body is round and vase-like in form. Such type of light fixtures gives an artistic appeal to the interior design. However, such a variety of light fixtures gives a contemporary look to the rooms.
Light Fixtures For Home Lighting
General lighting is usually brighter and richer in most commercial spaces. However, the kind of light fixtures employed to give general lighting in business establishments depends significantly on the length and style of the area that needs illumination.
Spotlight is utilized in larger commercial spaces to add more light to specific and small areas such as display cases. Therefore, it is essential to choose the type of light fixtures that will be most compatible with your business atmosphere and interiors.
1. Track Lighting
Track lighting is a system of outdoor lighting in which light fixtures are affixed to a flexible track system that contains several electrical conductors attached across the track. It's often used as an alternative to flush mount or ceiling lighting. In the latter, a single light fixture mounts above an area of the wall. In contrast, the former uses flexible track elements that affix lighting fixtures to the wall in a somewhat decorative way.
These fixtures may be suspended from above by casters or fixed to the wall at various levels. Track lighting has become very popular with apartment dwellers and homeowners seeking ambiance within the outer limits of their premises while enjoying a heightened sense of security.
Installation Concerns
One can install track lighting with mitered or straight track elements. Depending upon the type of track lighting arrangement, the fixture could have as many as four heads or as few as three heads. Usually, the number of heads in the track lighting arrangement depends on the intended usage of the light. 
Where to use track lightings?
Track light systems are usually used along with ceiling fixtures to create dramatic effects that add dimension to a room's overall look. In addition to making a room look impressive, track lighting can also help illuminate staircases and long hallways to make them safe for further travel.
Since track light systems are in the ceiling, they must be far away from areas that are in danger of tripping. With this in mind, you should keep the height of the ceiling fixture to a minimum, especially when installing track light systems above the area where one intends to hang the fixture.
2. Floor Lamp
A floor lamp is one of those must-haves for any modern home. This light style has a lampshade that sits atop a platform, thus, is mounted on the floor. Its base or stand may either from metal or wood; the preferred material will determine its practicality and longevity.
The Features
A floor lamp usually comes with these standard styling features: A sturdy base that sits smoothly on the floor and supports the weighty fixture. Lights are placed onto the platform or the shelf. And in some cases, recessed lights are installed beneath the lamp's underside stand.
Choosing the right floor lamp
The lampshade, which protects the bulb and allows light to fall directly onto the bulb for a warmer glow, can also have a colored glass or a frosted translucent plastic material. But if you're planning to place this style of lamp next to your desk, you might want to select a more rectangular or square design to balance it out better. And as with most lampshades, an adjustable cord is a must since you'll want to use the lamp anywhere in the house where there's power. You can find the flexible cord connections on three-way bulb bases but pedestal bases only.
3. Recessed Lighting Fixtures
You can also utilize track and recessed lighting fixtures in your office building. Wall sconces are another option that is great for your workstations. It can be positioned high or low in the wall and illuminates the area in a soft glow. Recessed light fixtures are very stylish because they blend in with the overall design of any room.
They come in a wide array of colors and styles, but they look great regardless of whether you choose a recessed light fixture for your bathroom, kitchen, bedroom, office, or living room. Recessed lights are also straightforward to install, making them a popular choice for many homeowners. Recessed lighting is usually installed directly onto a ceiling, a wall, or another surface. Recessed fixtures consist of three essential parts, trim, housing, and lamp.
The Outer Part
The trim consists of all of the metal housing that covers the bulb. The accommodation is typically finished in either a flat, smooth finish or textured paint to prevent glare. Once installed, the trim is usually secured to the mounting surface using screws or caulk. However, since most recessed fixtures are sold with the appropriate trim already attached, this step is generally unnecessary.
Housing consists of the bulb itself, the circuit board, wiring, and the glass or polycarbonate cover. 
4. Desk Lamp
A desk lamp is a portable light fixture that sits either on a table or desk to provide focused illumination for performing various tasks like reading, writing, sewing, drafting, craft, knitting, painting, and other projects. The lampshades or casings of a desk lamp can be crafted from various materials like glass, metal, wood, fiberglass, plastic, and many more.
Some desk lamps also come with a decorative light bulb. Usually, desk lights are wall-mounted and fixed with their base in the studs, while others are stand-alone, hung from the ceiling.
Types of Desk Lamps
There are three types of lighting functions of a desk lamp - a bright beam, a shade, and a spotlight. The brilliant beam functions highlight a work area where a straightforward task might be performed. A desk lamp with a spotlight, on the other hand, can be used to illuminate a specific area to make it easier for people to see what they are doing in the workplace. Spotlights can be adjusted to different illumination brightness levels, depending upon the need and application.
Why go for desk lamps?
A desk lamp can be a compelling design element to add to your home office. This simple lighting piece can go a long way in contributing to the overall aesthetics of your home office, making it a functional and aesthetically pleasing piece of furniture. This is especially true if you choose one artistically designed with an elaborate lampshade, with colorful glass casings or metallic shades.
There are many styles and designs of desk lamps available at your local home improvement store or furniture outlet. Just remember not to overdo it by placing too many pieces in your home office to ensure that the overall effect is calming and relaxing rather than distracting and causing discomfort to your fellow workers.
5. Chandelier
What is a Chandelier? Well, let's take one step back and answer, what exactly is a chandelier anyway? A chandelier consists of a light fixture that traditionally hangs from the ceiling in its most basic form. However, while most usually used in the dining area, chandeliers create an alluring statement in almost any room, including the bedroom, living room, and garden.
Chandeliers also come in various styles and finishes, so they can match any decor or mood you may be attempting to achieve. For these reasons, a Chandelier can become a significant focal point in a room and can add to the room's overall feel.
People love chandeliers; why not?
A Chandelier isn't just for dining rooms anymore! With the popularity of chandeliers rising, many designers have begun to use them in bedrooms too. Using a Chandelier in a bedroom can accomplish two things.
Firstly, using a chandelier in a bedroom adds a soft lighting effect that can help ease your weary eyes from having to read the paper or wait in line at the bank. Secondly, lighting up a dark room with a chandelier can help create an ambiance of mystery and even interest that you'd never been able to achieve before with only ambient lighting.
Chandeliers are classic.
If you want to create that perfect intimate room you've always wanted, consider one of these fine chandeliers. With their simplistic style, they provide a great accent to any home. As with most lighting fixtures, chandeliers are made to fit any size ceiling and easily blend into any decor or color scheme. With so many finishes and styles available today, it's easy to find one that will work perfectly with the way your home looks. There's sure to be one out there to fit your unique tastes with up to forty different options in both base styles and light fixtures.
6. Pendant Light Fixtures
A pendant light, otherwise known as a cable or suspension light, is a single light fixture that hangs from the ceiling typically suspended by a chain, cord, or wire. Pendant lights can be used in multiplexes, often turned in a continuous line above kitchen countertops and tubs or small bathrooms. Pendants have become extremely popular in recent years and nearly every house, from the bedroom to the bathroom. They look great and add an element of design to any home.
What it's made of
You can get pendant lighting with various materials, including glass, stainless steel, wrought iron, and even plastic. However, a popular material for the new generation of pendant lights is tempered aluminum which offers a lightweight, sturdy and attractive alternative to traditional glass pendant lighting.
If you opt for a glass pendant light source, you'll need to ensure that your ceiling is transparent so that the light source is at an angle that won't reflect on any mirrors, cabinet doors, or other items in the room. If you opt for a metal or wrought iron pendant, make sure that the mounting bracket feet are compatible with your ceiling's mounting system.
Installation Process
When it comes to pendant lighting, remember that there are two types of installation: up/down lighting and task lighting. Task lighting can include hanging the lights directly behind you and throughout the room and on your desk or other work surfaces such as tables. The most common type is suspended lights, fabric, or leather shades that come in various sizes, colors, and designs to complement your decor. Some people even choose to have a dimmer to control the level of illumination when required.
7. Wall Sconces
Wall sconces are eye-catching devices for your home. A sconce is simply a kind of lighting fixture which is fixed directly to a wall. Typically, the light is usually pointed up and outward instead of downwards and inwards. In ancient times, sconces were used as window light to provide light to the room's interior from the outside and were standard for illuminating a dining table or similar room feature. Since then, sconces have evolved into much more decorative lighting devices designed to provide light in specific areas of the room.
Where to look for these?
As you search around online for interesting and unique wall sconces for your home, you'll see that there are many different designs, styles, and sizes of wall lights available, allowing you to choose from a wide array of options. For example, you can find beautiful crystal wall sconces, antique-looking crystal wall lights, modern-day's wall lights, Tiffany-style wall lights, and much more.
It's important to note that different fixtures will need additional power sources, so it's good to know this information upfront before going shopping. In addition to the power source, you'll need to decide what style of wall light you want, whether it be traditional contemporary, art decor, crystal, or anything else.
Types of Wall Sconces
There are many different types of wall sconces to choose from. For example, you can get a single flush mount wall light, double flush mount wall lights, or triple flush mount wall lights. The type of wall sconces you choose will ultimately depend upon your personal preferences, as well as the overall theme of your home.
One thing is for sure, if you put some thought into choosing your new wall lights, you'll find yourself highly pleased with your purchase. After all, it is one of the most important purchases you'll ever make!
8. Cove Lighting
Cove lighting is a type of indirect lighting designed for use in ceilings, recesses, corners, or other breaks in a wall and then directed upwards towards a top. It produces light upwards towards the ceiling and then down adjacent walls as well. In some cases, it can be used both as the main lighting and as secondary lighting, particularly to highlight decorative ceiling features, such as scalloped trim and moldings. It can also be used to create ambiance through varying the spread of light in different areas.
Installing Cove Lighting
When planning your ceiling lighting design, determine which area you most need coverage, such as a wide archway, a sitting room, a nook, etc. Then choose a shade that will adequately diffuse and soften the lighting effect, depending on where you will be installing it.
Alternatively, you may want to install cove lighting recessed for a more seamless look and feels. Recessed cove lighting is best used when installing it over something that will not change much, such as over a ceiling mount TV, a bookcase, etc.
Beautify your space appropriately!
Once you have determined where and how you will install your cove lighting, it is time to select fixtures to complement the ambiance you are trying to achieve. Depending on what type of decor you have, you can choose fixtures that complement your particular theme. For instance, if you install it over a traditional chandelier, you can install dimmer switches with motion sensors to turn the lights on for each chandelier.
Another popular option for many is to use energy-efficient LED lights. These fixtures give you a warm, cozy, homey feeling while providing sufficient illumination for your space, allowing you to read and do homework without squinting into bright overhead lights. In addition, Energy-efficient LED lighting, coupled with cove lighting and other fixtures, can give you a cost-effective solution for lighting the outside elements in and around your home.
9. Soffit Lighting
Soffit lighting is one of the most common forms of home lighting, and for a good reason. Soffit lighting is installed to highlight specific architectural features, such as stone arches, decorative columns, or unique pillars in a home. The use of soft lights is typically not utilized to illuminate a whole house at night but rather to accent specific areas of a property that lend themselves to architectural attention.
Method of Installation
The most common installation method for soffit lighting is to use LED tape-rope hybrid lights. LED tape-rope hybrid lights are incredibly compact and durable, making them ideal for use in soft lighting. In addition to being incredibly easy to install, they also consume very little energy and last for years, even with frequent use. Because of this, it's no wonder that many homeowners choose to install LED tape-rope hybrid lights in their homes.
Main Components
The main component of all Soffit lighting systems is what is called "hot-wire" frame elements. Hot-wired frames are affixed directly to the exterior wall framing and comprise single or multiple hot-wired panels. All other components, such as lighting sockets, wiring, and trim, can be installed later once the frame is in place.
Once installed, hot-wired frames allow for flexibility in the positioning and direction of individual lights and the placement of trim elements around fixtures. The ease of installation, low cost, and long life contribute to the popularity of hot-wired Soffit lighting. In addition, since the frame element is separate from the actual light bulb, Soffit wiring requires no wiring of the existing light bulb, saving time and money on installation.
10. Ceiling Lights
Ceiling Lights are used to highlight a particular area in the house, like a dining room table or even the entrance of your home. Most homeowners and homemakers prefer to use chandeliers over the traditional light fixtures because they provide a more elegant and classier look to the entire setting of their homes. Chandeliers are light fixtures that are suspended from the ceiling or just below it. The chandeliers can be made up of different materials such as glass, wood, or metal.
The choices are boundless!
There are different types of lumens lighting that you can choose from to create an elegant atmosphere in your home. For example, you can create a chandelier with a single lamp or a group of recessed lights. If you use the recessed ones, you will have to make sure that all the bulbs of this kind will be the same size and color to create uniform lighting in your home. However, if you are using the glass ceiling lights, you need to ensure that all the glass bulbs of this kind will be the same size to look blown out when there is an intense heat source applied to them.
Would you try this?
Glass Ceiling Lights are trendy because of the elegance that they add to the surroundings. Using this type of ceiling light in all the rooms of your house will help you achieve a great look for all these rooms. You can also opt for different types of chandelier bulbs that you can use for creating the different moods and effects that you want to make in the other rooms of your home.
Apart from providing an elegant and sophisticated ambiance into your home, you can also use these types of ceiling lights to reduce your house's energy costs. By choosing the right kind of ceiling lights made up of the best quality materials, you can get a good saving deal.